Article Written By:
Michael A. Toglia
Publisher, Editor-in-Chief | Equipment Finance Advisor
In June 2016, Marlin Business Services Corp. (Marlin) announced the appointment of Jeffrey A. Hilzinger as the company's new President and Chief Executive Officer. Hilzinger is a highly experienced commercial finance professional possessing over 35 years of industry experience, including over 25 years in the equipment finance industry. Hilzinger had most recently been the President of EverBank Commercial Finance, but his roots harken to the days of Heller Financial and US Express Leasing (USXL) — which he co-founded in 2004. USXL, which merged with Tygris Commercial Finance in 2008, became part of EverBank in 2010.
With roughly ten months under his belt leading Marlin, Equipment Finance Advisor sat with Hilzinger in the company's Mount Laurel, NJ, headquarters to discuss his experiences since taking the reins and how his vision to redirect the company under a corporate initiative named "Marlin 2.0" is materializing.
We started our discussion with Hilzinger explaining his first impressions of the company.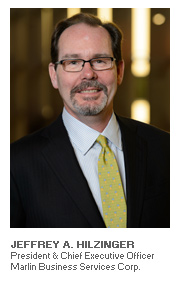 "When I was first approached by Marlin, I knew the company as a relatively small, micro-ticket lessor. But as I looked more closely, I found that as a publicly traded company and a member of the Federal Reserve System, Marlin is actually a much more sophisticated financing platform than many, much larger companies. Additionally, and probably most importantly, everywhere I looked I found an engaged workforce that was open to new thinking and very committed to the company's success."
Hilzinger also sensed a clear readiness for change, which is one of the reasons he believes the company has been able to achieve significant progress in a relatively short period of time. According to Hilzinger, Marlin's employees are excited to be back in growth mode. He also points out that while he has been very impressed with the company since arriving last year, he's learned something very important early in the process.
"There's a tremendous amount of 'raw material' at Marlin, and it became clear to me early on that there are many capabilities here that are under-leveraged and which create the opportunity for a great deal of upside," he explained.
Strategically Shifting to Marlin 2.0
For years, Marlin operated primarily as a micro-ticket lessor with a single product, vendor-centric strategy, according to Hilzinger.
"The issue with that narrow strategy was that it did not allow the company to fully leverage the sophisticated but expensive infrastructure that had been developed," he said. "So, by its nature, Marlin's inability to scale caused its return on equity to be effectively capped in the 10% – 12% range. As a result, the primary strategic objective under Marlin 2.0 is to grow – driven by the need to better scale the business by fully leveraging the infrastructure we already have."
As Hilzinger explains it, with over 300,000 lifetime small business customers and almost twenty years of credit underwriting experience and customer data, the foundation of the Marlin 2.0 growth strategy is the company's core competency of lending to small businesses.
"At the heart of the 2.0 strategy is the company's transformation into a provider of credit products and services to small businesses. So instead of thinking of ourselves only as a micro-ticket lessor, we are now focusing on ways to truly help small businesses grow," he said. "This is our new mission statement – Helping Small Businesses Achieve Their American Dream." Hilzinger further explained that in support of this mission, Marlin is expanding its micro-ticket leasing product into a broader Equipment Finance business – now providing working capital financing through its Funding Stream product and is providing financing to franchisees through its Franchise Finance business. "Through the 2.0 strategy, we are becoming a more market-centric company, providing solutions to small businesses rather than just a particular product."
But competing in the small-ticket and micro-ticket markets has become even more complicated in recent years as the market has become disrupted by the flood of FinTechs entering the small-business lending space.
We asked Hilzinger about these disruptors and if Marlin was heading toward becoming a FinTech — keeping in mind that Marlin launched FundingStream.com in 2015.
"Marlin is not a FinTech and the company does not want to become a FinTech as such lending is defined today," said Hilzinger.
But he also understands the value of providing a technological approach to financing small businesses.
"While not a disrupter, Marlin is one of the market's original 'alternative' lenders having provided financing almost exclusively to small businesses since its inception almost twenty years ago," according to Hilzinger. "This experience, coupled with Marlin's rich data and depository funding advantage uniquely position us to continue applying digital marketing tools and e-commerce technology to a platform that already has funding stability, underwrites soundly and is a reliable, long term financing partner for small businesses," he explained.
Hilzinger insists that Marlin's growth in the small-business lending market cannot be accomplished solely via the usage of technology. He believes the human component remains important, but must be better enabled by technology. He envisions a process that diverges from that of a traditional FinTech. Hilzinger's ideal system blends the ease and efficiency of technology with the nuanced and individualized service that a purely digital platform cannot provide.
For instance, a digital application process can be useful not only for qualifying a lead, but also in determining a customer's general financing needs and matching them with an initial set of Marlin products.
"Then we bring in the human component to put together the final collection of products and solutions needed by the customer," Hilzinger explained.
Expanding Into the End-User Market
Marlin is also moving towards a "solution selling" approach, which Hilzinger describes as a model that is more focused on particular markets or customer segments as opposed to focusing on a particular lending product to meet a particular need.
"For years Marlin thought of itself primarily as a vendor finance company where our dealers, distributors and vendors were our only customers," he explained. "An important component of Marlin 2.0 is to understand that not only is the vendor a very important customer, but so is the end-user."
Like more traditional vendor models, Marlin's end-user strategy begins by providing vendors with financing solutions to help them sell equipment to their small business customers. The difference under Marlin 2.0 is that the end user is then assigned to an end-user team – which immediately works with the end user to identify other financing needs and to provide them with a solution through the application of Marlin's various products.
"Under this model, the vendor sales team creates a continuous flow of new end-user opportunities for the end-user sales team and the end-user team creates a continuous flow of new vendor opportunities for the vendor sales team, resulting in a self-reinforcing relationship between the two initiatives," Hilzinger explained. "Within this model, we can then present multiple products, such as equipment finance, franchise finance, working capital, or other to-be-determined products to our end-user customers. The point really is – there are multiple credit products and services demanded by small businesses that Marlin can continue to put into the mix in order to create a true, continuing relationship with our end-user customers."
This new model represents a dramatic shift for Marlin, according to Hilzinger, and is a critical factor in transitioning the company from a micro-ticket leasing company into a true small business lender. However, it requires a sales force that is organized around markets rather than products and sales teams that are incented toward selling solutions as opposed to just products.
As Hilzinger explained, "We recently reorganized our sales force around this model and, while it is still in its early days, I'm very encouraged by the early results."
Success Depends on a Strong Leadership Team
Hilzinger believes that due to its relatively small size and straightforward organizational structure, Marlin is especially well-positioned to reap the rewards of a strong and nimble leadership team.
"Marlin possesses the sophistication of a big company – in terms of its infrastructure, but it is small enough that our leaders can have a real impact," he said. "We encourage an entrepreneurial, market-centric spirit, and I think the team embraces all of these qualities and understands that the possibilities for our business are vast. But it does require a very capable and experienced leadership team to execute a plan like Marlin 2.0, and I'm very proud to say that we have that team at Marlin today."
Hilzinger also believes that Marlin's senior team and employees are excited about Marlin's future, want to be part of helping the company achieve its potential and believe that Marlin 2.0 is the path to that potential.
"It's really all about alignment – that we all believe and understand what Marlin 2.0 is, and that we are all executing in a way that is consistent with that framework and with our values."
The Positive Side of Competitive Disruption
As a wrap up, we asked Hilzinger what he sees as Marlin's biggest challenges in the highly competitive small-business lending sector.
"I think a large part of the equipment finance industry looks at the FinTechs and recognizes the competitive threat that they are," he said, "but, surprisingly, I also think a large part of the industry doesn't think the FinTechs finance equipment – and we know this is not true as FinTechs are providing financing to small businesses to use in many ways, including to finance equipment."
Hilzinger says he personally believes that the disruption coming from the FinTechs is a good thing because the disruption will ultimately create constructive change that everyone will benefit from in the long term.
"Increasingly, millennials are becoming the leaders of small businesses, and they are demanding digital interfaces and technological solutions that are effective and easy to use," he said. "If we thought speed and convenience was the value proposition for small-ticket finance in the past, wait till you see what this generation expects. It's going to be what we consider 'speed and convenience' today on steroids."
"I think there's a huge prize for the firms that can figure out how to marry the credit and funding strengths of the 'Fin' side of FinTech, with the speed and convenience the 'Tech' side," said Hilzinger. "I'm thrilled to be here at Marlin and excited about our future in this emerging world."